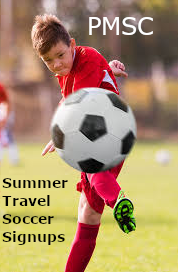 Online Signups are now open for Summer Travel Soccer.
Before you register:
Read the FAQ for important information & answers.
Be ready with a digital photo of each player's face (no hats, side views, etc.)
For any player new to us, be ready to upload (or send later) a digital photo of an official document containing his/her date of birth.
Payment will be processed at the end of the registration process.
Ready?
TIME LEFT TO REGISTER:


... ... No news at this time. Check back soon!